When you hire Finish Line Concrete Cutting, you've come to the right place.
We Have High Standards for Our Company and Your Project
We are a member of the Clark County Building Industry Association. We are also licensed with the Oregon Contractor's Board and the Washington State Contractor's L&I Department.
We Offer One Stop Shopping
We will take care of your job from beginning to end, so you can focus on other projects. We offer a wide variety of services to meet your company's needs for interior, exterior, new construction or remodeling.
We Are Progressive
Finish Line Concrete Cutting is constantly staying abreast of concrete industry needs. We offer the latest in Ground Penetrating Radar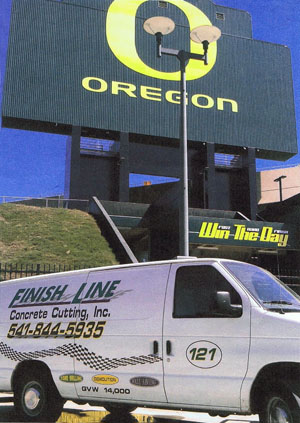 We Are Green
We are dedicated to reducing materials that are detrimental to the environment. All of our new diesel saws are bio-diesel compatible, along with our Whisper watt generator. Our electric slab saw has no emissions and runs off a generator powered by bio-diesel, and most of our vehicles run on low emission fuel. We are dedicated to recycling 100% of all related demo, including 100% of all concrete and asphalt removed by us.
We Take Safety Seriously
The cornerstone of any program is personal commitment. This commitment begins in the company. Finish Line Concrete Cutting maintains, as its goal, an injury-free workplace and understands that through proper training and application of safe work practices, it is possible to work injury-free. Finish Line Concrete Cutting has a written Injury and Illness Prevention Plan which serves as the foundation for its entire safety and health program. We are committed to providing a safe work environment for both our employees and our contractors' personnel.
Finish Line Concrete Cutting is also a drug-free workplace. We belong to the Construction Industry Drug-Free Workplace Program which requires our employees to have random drug tests within 24 hours of notification.
We Pick Up After Ourselves
We are proud to be one of the cleanest concrete cutting companies in the area, and we take special care to protect existing finishes prior to commencing with work.
WA License # FINISLC988OS
CCB# 153311
FED TAX ID# 48-1274067